Eastern Woods Research....a history lesson
Back in 1991 Eastern Woods Research was born in Phoenixville, Eastern Pennsylvania, USA. It's founders were Jay DeJesus, Kenn Rymdeko and Jason McLean.
The bike they designed was specifically for the gnarly, twisted root and rock ridden woods of Pennsylvania so had the geometry required for this type of riding. High bottom bracket (12.5"), steep head angles (72 deg), long front triangle, short chainstays (15.9"), big.....VERY BIG steel tubes and some serious triangulation for extreme strength. As Jay's background was in Trials riding the bike also had to have good standover so the traditional 'double diamond' frame was off the drawing board and was replaced by an unconventional looking frame with effectively no top tube and an angled/mitered downtube to clear the rocks and roots.
Frame material was standard plain gauge 4130 Cro Moly steel, no butting or weight saving here, just downright strength and rigidity.

This bike, despite being originally named the Hairy Eyeball became known as the Original Woods Bike (OWB) and thus the legend was born...

Literally a handful of these bikes were put together in that barn in Phoenixville by Kenn Rymdeko, Jay and Jason McLean before Jay approached legendary frame builder Bill Grove to start producing them for him.

Bill originally made trick BMX parts for his own company Triton, stuff like pedals and axles. The full story can be read HERE.
Later on Bill Grove started Grove Innovations who produced some stunning bikes such as the Grove X, Grove Hardcore and Grove Assault so was the perfect man for the job. Bill Grove and John Upcraft made what is believed to be four batches of OWB's before Eastern Woods Research folded in 1998.

The first two production runs of OWB's had the same Water Jet Cut horizontal rear dropouts found on the Grove X and Hardcore, but later frames had a cheaper and much more readily available vertical Breezer dropout tig'd on instead, this enabled the build price to drop and also speed up manufacturing. EWR mostly took batches of 20 frames at a time from Bill and there was often tweaks made to each batch, this explains the subtle differences in braze-on's and cable routing that you find from bike to bike.
There's also much talk about EWR serial numbers but the truth is they didn't always have numbers so there's bound to be a few kicking round without any numbers at all.

This is the format of the serial numbers, followed by how to 'decode' yours.
EWR-HE-122-7-94

So, this isn't as bad as it first looks.....EWR : well I'm sure you have that one figured, HE : well this denotes Hairy Eyeball the name nearly given to the Original Woods Bike (i'm glad they didn't...), 122 : the first '1' means nothing, the first '2' is the production run and the second '2' is the 'frame in batch' number. 7 : Month of manufacture, 94 : year of manufacture.

So, the serial number above translates to:
2nd Production run, 2nd frame in batch, July, 1994
The first three batches of OWB's were available in limited colours, White, Inferno Yellow or blue. There was also an orange OWB and this came ONLY from the last batch of OWB's made by Bill Grove in 1997.

All of the frames that came out of Bill's shop were raw and the paint on these EWR's was done by Bryan Mayers at Fresh Frame in Ephrata, Pennsylvania. Custom paint was also available (or so it said in the catalogue)

Approximately 150 OWB's were built during this time.
Pre Bill Grove dropout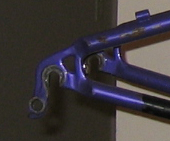 Bill Grove Water Jet cut dropout (circa 1994)
Bill Grove Breezer dropout (circa 1996)
'New' EWR OWB dropout (Bilenky built frames 2007)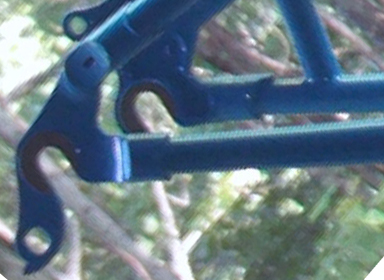 'New' EWR Breezer 'Hooded' dropout (Bilenky built frames 2007)
Eastern Woods Research also made the E-Motion (a Cross Country Race frame) and the Mettle Aluminium Trials.

The E-motion came in two flavours, the 'normal' E-Motion which was a straight gauge 4130 Cromoly steel bike (same steel as the Original Woods Bike) and the B2 which had a True Temper OX III front triangle. The E-motion had 'hooded' Breezer drops, as opposed to the water jet cut drops on the OWB.

Approximately 75 E-Motions/B2's were built.


EWR E-Motion
The Mettle Trials bike was a Trials specific bike and came with either canti's or Magura HydroStops, the frame was 6061 aluminium, was TIG welded and had CNC drops. The geometry was as follows:

Head Tube: Secret
Seat Tube: Secret
BB height: 12.25 inches
Chainstay: 15 inches
Wheelbase: 39.25 inches
Weight: 4.2lbs

Approximately 65 Mettles were built.
Original Press Release for EWR Mettle (scan courtesy of themanmonkey at VRC)
Jay DeJesus own personal Mettle prototype (scan courtesy of themanmonkey at VRC)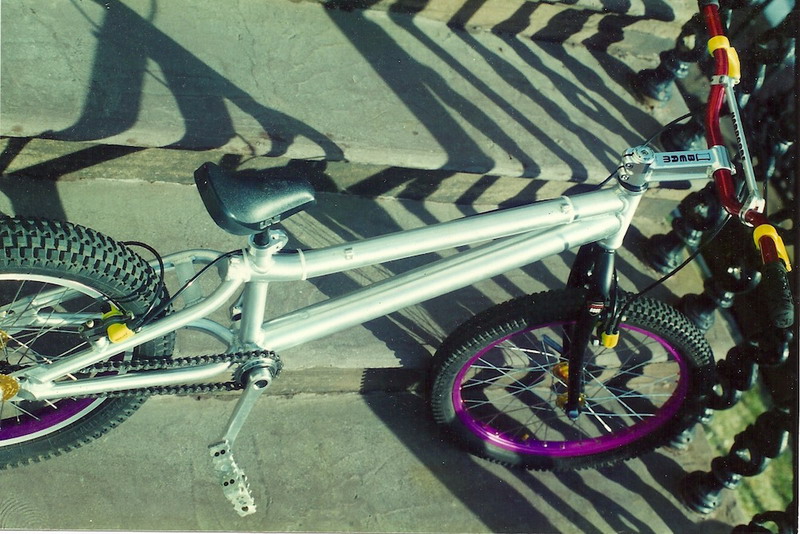 Jay's comments on the above pix/press release:



WOW! That is classic -- I remember typing that copy on our old crappy computer. The bike pictured is my own personal prototype, the first one, photo'd in downtown Bethlehem PA. You can tell by the dropouts and the fact that there was no bashguard support under the BB. We got the front wheels, rear rims and tires from Monty direct in Spain, and I built the rear wheels. This was before the Judas fork was available, hence the Kinesis fork pictured

Funny you should ask if they were re-badged Monty's. In 1995 we debuted these to the world at the annual spring Motorama Trials event in Harrisburg, PA. They were the biggest events in the US, drawing people from all over the US, Canada, Czecho, Spain, Chile and beyond. That year Ot Pi (Monty rider who's family founded Monty) and Hiroshi Hirano (Japan) of the World Biketrial Union came to the event. On Sunday morning after the event Ot spent about a 20 min. tooling around on my bike -- I was quite proud.

Monty definitely made the first Aluminium trials bikes, followed by GT and others. They all followed the same geometry formula. My bikes (both the Mettle Aluminum and previous steel models) were quite different in that I used longer front and rear ends (especially the front), and a very low profile. Strangely enough, future Monty bikes looked and handled a lot like the Mettle in design and geometry. Ironic...

They definitely made production and were very well received. Long-time EWR Factory rider Jason McLean did a lot of testing and had major influence on them, and was always a top-3 Pro rider in the NORBA National Series. If you get lucky you may find them out there.

Jay DeJesus - November 2009
This is an EWR Mettle owned by VRC member DoubleCentury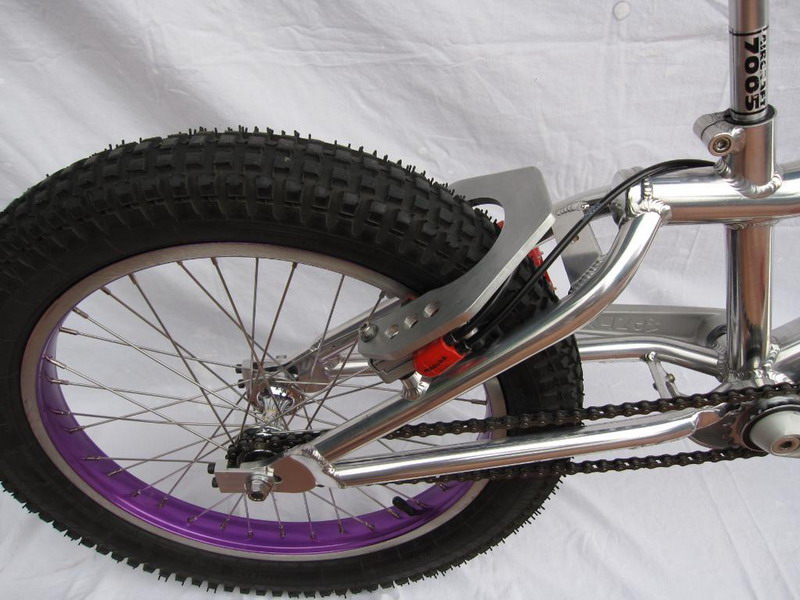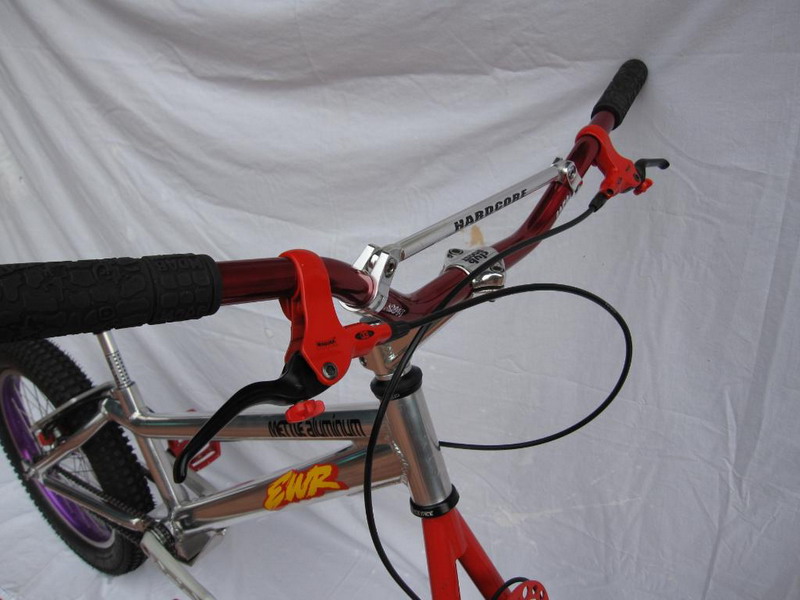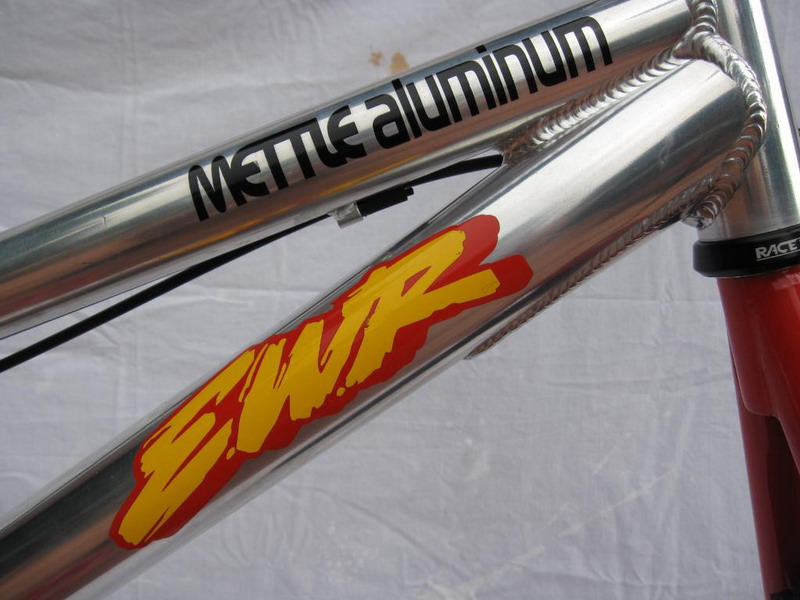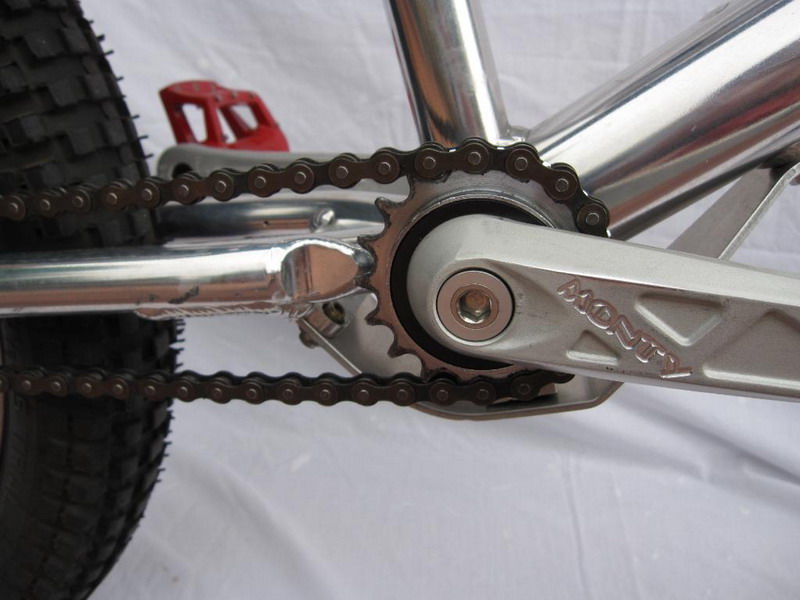 In 2007 Eastern Woods Research rose from the ashes once more and are now enjoying huge success. They are still based in Pennsylvania and are producing a modern variation of the Original Woods Bike, this time built from True Temper Supertherm and Columbus Nivacrom butted tubing and with modern geometry to carry a 4" travel fork.

They also now produce a 29er version of the OWB and new for 2009 an OWB 29er Single Speed.

Find out more about the new Eastern Woods Research products at EWR Bikes.com